Development of Side Scan Sonars system for USV in China
Recently,56 unmanned surface vessels (USV) were tested in the sea near Zhuhai, Guangdong province. The USVs reportedly avoided islands and reefs, crossed bridges and tunnels, turned and changed their formation into a shape of an air craft carrier. It is a military project to develop a "shark swarm" for sea battles and military patrols.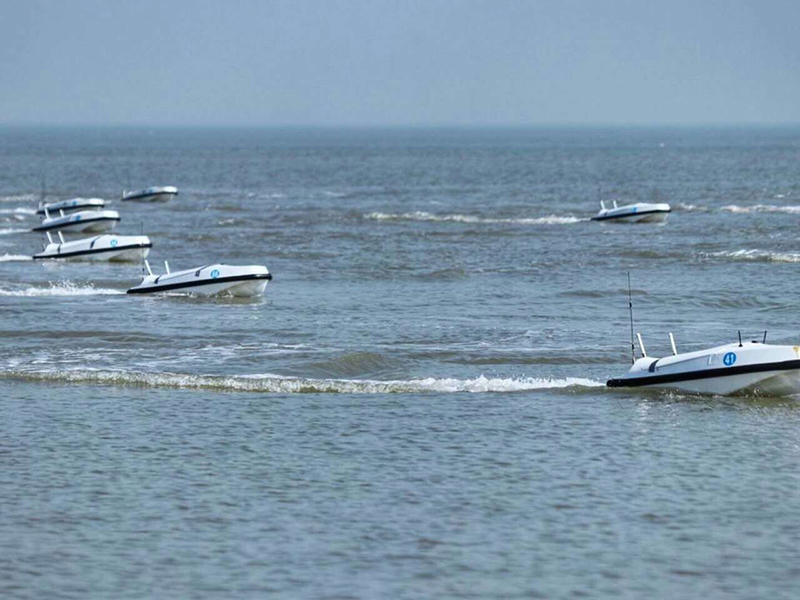 In early Nov of 2017, the world's first smart ship, developed and built by China State Ship building Corp, has started its first trial voyage in Guangzhou,capital of Guangdong province. As stated, a set of integrated information systems capable of autonomously monitoring, recording and analyzing the conditions and operations of major equipment such as engines and propeller shafts. The data reduces the crew's work load, improves efficiency and avoids misjudgments. This is a great step forward towards the unmanned cargo ship inthe world.
China USV projects started around 2010. At present, there are more than 15 major manufacturers and researchers of USV in China. In 2016, the first USV development and testing center opened in Zhuhai, Guangdong province. On July6th, the United Unmanned Vessels Technology and System Key Laboratory opened in Dalian, capital of Liaoning province by China State Ship building Corporation(CSSC), Dalian Marintime University, China Classification Society and China Waterborne Transport Research Institute.
The sales of USV in China has been growing quickly in the past years - in 2014, 80 USVs were sold in China while 245 USVs were sold in 2015. 2016 sales was nearly 650 sets already.
Since the unmanned aircraft take more and more important roles in modern wars, USVs with various functions have been also developed in the past years. USVs have great potential in mine reconnaissance, battlefield environmental assessment, portescort, sensor deployment, intelligence, surveillance, mine hunting, anti submarine, logistics support and even anti ship operations.
Meanwhile,there is a much bigger civil market for USV in China. It covers water environment monitoring, emergency inspection, marine investigation, security,nuclear safety, flood prevention etc.
USV has overwhelming advantages in tough conditions or even dangerous environment.In Aug of 2018 during the heavy explosion in Tianjin port (it caused 165 indeath along with damages of 304 buildings, 12428 vehicles and 7533 containers),USVs were sent to Tianjin port for monitoring 24 hours continuously. In June 6,2017, USV was sent to Selincuo lake in Tibet with altitude of 4530m for comprehensive scientific survey. At the end of 2017, USV completed seabed topographic survey of 50,000m2 in Antarcticocean.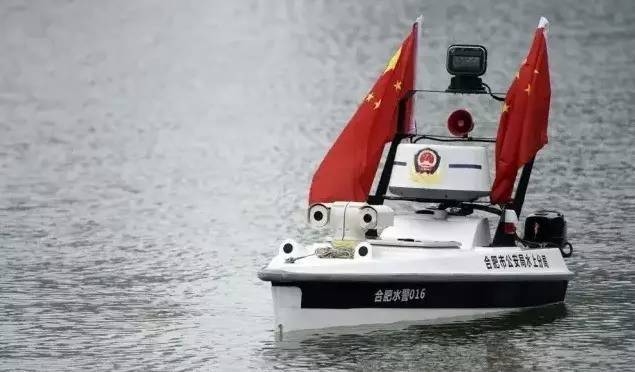 On July 3rd 2017, the world's first unmanned police patrol boat was put into operation. It has the functions of autonomous cruise, automatic obstacle avoidance, automatic target recognition, early warning, air to ground watersystem linkage, voice driving, sound and light alarm, strong light guidance,real-time video transmission, multi mode remote control, risk assessment,communication links, autonomous return to port, underwater detection, precision positioning and other functions.
Besides autonomous driving system, it is equipped with many other sensors and equipment, among which one of the most important device is side scan sonar.
As the only domestic manufacturer of side scan sonar (SSS) in China, Beijing Lcocean has supplied dozens of side scan sonar to USVs companies. In the past 2-3 years, China Security Bureau has used USVs equipped by SSS for the realtime detection of underwater object, location and shape features to help the police conduct underwater physical evidence detection, hazardous materials detection, equipment and facilities detection etc.
Besides,police can complete the works of water depth measurement, topographic mapping,underwater suspected target scanning (such as smuggled articles, underwater explosions, crime tools, corpses, etc.), underwater image information acquisition, and other aspects of underwater image information acquisition. It is a good helper for public security marine police and frontier maritime police to carry out smuggling investigation, clues discovery, criminal investigation and evidence collection, explosion prevention and anti submarine work etc.
In earlier June 2015, USVs equipped with SSS has been approved by the Ministry of Public Security to be one of the standard policy equipment in China.
Following voyage tracking shows that USV is more intelligent and accurate to achieve the maximum efficiency. So use USV type side scan sonar is convenient to carry out oceanographic geological survey, rescue search, port wharf topography and geomorphology, underwater archaeology, pipeline routing investigation,ecological fish reef and aquaculture survey, etc.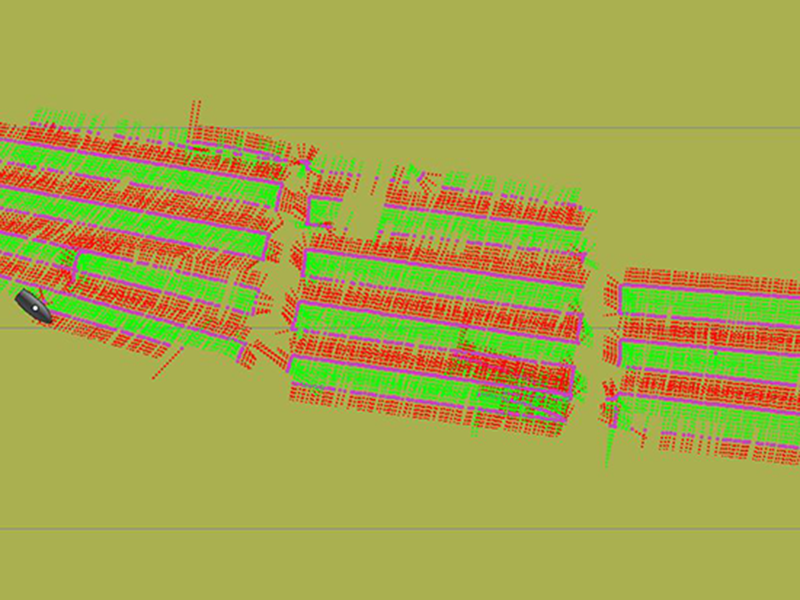 In the same time, USVs equipped with SSS has been found to be a powerful tool inenvironmental protection area. Some chemical plants bury pipes underground leading to river / lake which are used to discharge waste water. Since the outlet is under the water, when people found the water is polluted, it is difficult to find the pipe as the water is dirty and even black. Small USVs with SSS are used to find the outlet of the pipes.
Unmannedside scan sonars are of small and portable size with low power consumption and high cost performance. It has two types - integrated and separate. For integrated type, electronic components and transducers are housed in one case and fixed at the central of the bottom of the USVs as shown below.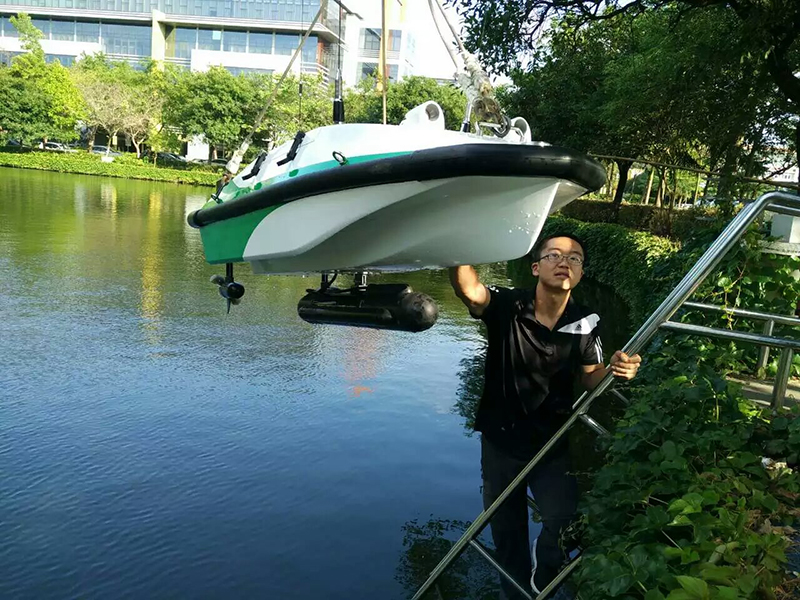 For the separate type, electronic components and transducers are separated and are linked together by data cables. The size and dimension of transducers can be adapted according to the design of USVs. They can be mounted to the two sides of the hull. As a result,separate type of unmanned side scan sonar can be fixed to USVs perfectly.
Meanwhile, unmanned side scan sonar can be mounted on ROV /AUV. Both electronic parts and transducers can be adjusted according to the design of ROV/AUV.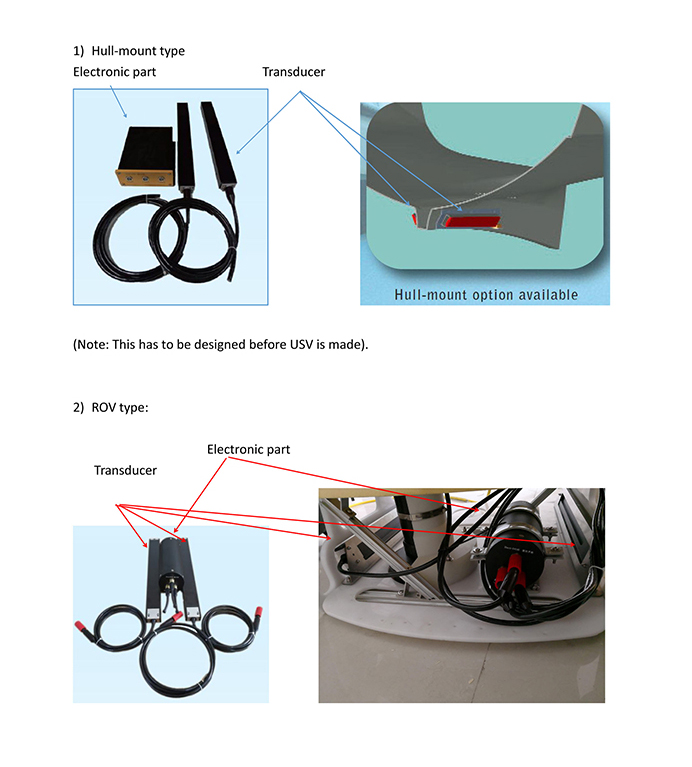 With the fast growing of USV, ROV, AUV etc,side scan sonar, combined with multi beam echo sounder, are capable of accomplishment of more works to reduce labour costs significantly or even replace manpower completely in the future.